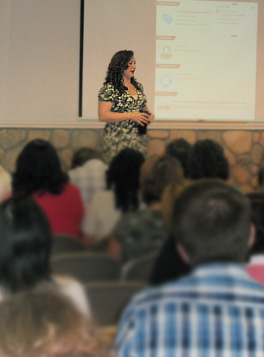 Kelly McCathran from Adobe Systems leads workshop at Copies&Ink
A word of thanks to everyone who participated at the recent Adobe PDF workshop at Copies&Ink. It certainly was a busy, informative session. Rave reviews abounded from everyone.
Kelly has once again shared her personal list of links and free resources. Here they are, for those who attended, and those who couldn't. Enjoy!
Adobe Resource Guide
by Kelly McCathran
Adobe Groups
The group I mentioned at your event is Creative Suite Lovers, look for the white CS4 logo
http://groups.adobe.com
Kelly's Extra Handouts
http://public.me.com/kmccathran
Adobe TV – Creative Suite 4 Demos
Cool videos on how to do almost anything in the Creative Suite
tv.adobe.com/
Creative Suite 4 Info
Suite breakdowns & Upgrade pricing
www.adobe.com/products/creativesuite/
Adobe Design Center
Step-by-Step Lessons, Guides and Tutorials for CS2 & CS3 also access to User Forums & Feature Requests
adobe.com/designcenter/
Adobe Design Center Video Workshop
Flash Movies on all Creative Suite 3 Products and many new features
adobe.com/designcenter/video_workshop
Adobe Print Resource Center
Transparency guides and PDF Print Production Information and a wealth of print related resources
adobe.com/go/print
Adobe Events
Find Adobe Certified Trainers and Training Centers in your area, on-demand and live eClasses as well as road show events
www.adobe.com/events
Adobe Education
Educational resources for K-12 and higher education, free curriculum and more
www.adobe.com/education