Great Printing and Design Makes the Difference
PRINT • CORPORATE BRANDING • DIRECT MAIL/WEB MARKETING
CATALOGS AND BOOKLETS
Bill Alpert
2020-04-30T23:39:27+00:00
Work With Copies&Ink
SMALL BUSINESS PRINT • CORPORATE PRINT • DIRECT MAIL
The Power of Cooperative Purchasing
Here's a hard truth I've learned over 41 years in the printing and graphics industry:
Long gone are the days when any single factory can provide everything you need printed. All printers have their strengths and weaknesses. Making the right choice will save you time, money and frustration.
For many years, Copies&Ink was a single source manufacturing facility located in Southern California. For those decades we were able to provide first class products always delivered with value added personal service. But technology moved on. Customers moved much of their communications online. Automation transformed how printed materials were produced. It was time for a change.
Today, I offer you the benefits of over four decades in the industry and the strong relationships I've built with craftsman and innovators across North America. If you need 100 business cards, I have a perfect local source for you. Then again, if you need 50,000 public information pamphlets, different presses and processes are needed. It's all available for you here, no running around. Through the power of cooperative purchasing, full color printing on high quality paper stock is now affordable for any size company. Many typical products are available at our online store: https://store.copiesandink.com
If you don't see what you need, feel free to contact me using the link in the menu. Or call me at 1-888 874-7890. Leave a message and I'll promptly return your call.
Shop Online
Find selected, unique products in our 24/7 online store. Same dedicated quality and service, with super competitive pricing.

Branded Corporate Portals:
This Copies&Ink service has been super popular: a web page that already "knows" how your business cards are formatted. Any employee can simply hop on the page, enter her contact info, and voila, perfect cards are delivered to the location of your choice across USA and Canada. Your corporate branding is locked in: the fonts and graphics will always look the way the original designer intended. Eliminate errors, unprofessional ad-hoc designs.
We use sophisticated web-to-print technology, and it is perfect for business cards, stationery and any other branded items that you use frequently. We produce and ship from plants across North America, so there's no delay or extra cost.
Who has time to waste time on the routine drudgery of producing business cards? Or making sure the correct envelopes are printed? Your Copies&Ink Branded Corporate Portal (BCP) can go live in less than a week. Contact Bill Alpert for more information or to get started!
CORPORATE PRINT & BRANDING
DIRECT MAIL / WEB MARKETING
A Message from the Founder & Owner
OUR HISTORY • PHILOSOPHY • OUR REASON FOR BEING
Sooner or later, you'll be needing some help with printed materials. Maybe business cards or company stationery. Maybe a publication or brochure. Or maybe even an annual report for your non-profit.
Chances are, at some point I've worked with someone just like you. Mostly because I've been doing this since the 1970s when I worked in my Dad's letterpress shop. Dad, was a "people person" and always took the time to get to know our customers.
While craft and skills are important, the crucial thing is creating an empathic relationship with that person you are serving. It is my duty to offer you the best options, the thing I would choose if I were in your shoes.
Technology and tools have truly transformed the printing industry since the days of Gutenberg, a trend that will surely continue. But I believe that even if I've never set foot in your office, you deserve patient and professional advice.
Yes, I'm offering you the best of today's technology. But most important, you have the benefit of a human being who wants to help. That is who I am.
I look forward to meeting you, be it in person or online.
Remember, we are not your typical online printing site. You can expect personalized service and attention to detail at every step.
We began as a family business, and I take that legacy seriously. Below is a photo of Dad hard at work beside his Heidelberg Platen Press. I cut my teeth under his guidance, back around 1966. And we are still serving you today, all these years later! Thanks for reading. ~Bill Alpert 4/2020
Below: Larry Alpert, founder of Alpert's Printing Company circa 1966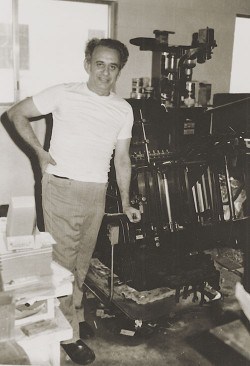 Expert Print and Marketing Advice
TRENDING BUSINESS MARKETING NEWS
Let's Work Together
HOW TO GET IN TOUCH:
Call Toll Free: 1-888 874-7890
or email: bill at copiesandink dot com
We are here to help. Do you need a quote, or help with your design files? I'll get in touch with you promptly.