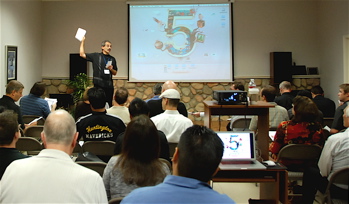 Bill Alpert Introduces Event
Does having deep knowledge of a software package like Adobe Creative Suite pay off? Is spending a few hours brushing up our skills at a graphics workshop a good use of time? If the speaker is Brian Wood of Adobe Systems the answer must be a resounding: YES!
Just use one or two of Brian's InDesign or Photoshop tips, and you could literally save hours on your next project. For me the take away at events like this is simple: as professionals we must continually invest in our own skills to the point of true expertise. Otherwise we risk being outsourced, outsold, or just becoming irrelevant to the workplace.
If you use Creative Suite, I urge you to check out Brian's website.
Also, if you'd like to continue talking about marketing and graphics in the new era, I invite you to join us online on a new forum built for that purpose.
Thanks to everyone who made the event a success. Hope to see you all again soon!